Events and Announcements
Come help us celebrate our 3rd year and our first year at our new location!
Saturday June 23rd
2 PM – 5 PM
At the Baer Swords gym
We provide brats and burgers, as well as a wide variety of sparring weapons and equipment (all the way from foam to tournament steel). You bring a side, dessert or beverages and a passion for sparring, or just watching other people spar!
It's a great time to be had and we welcome any and all. Please feel free to invite anyone that you think would enjoy the event. Just drop us a note so we have an idea of how much food to bring. 🙂
We'll have a raffle to win t-shirts, towels, and other prizes too!
Hope to see you all there!
---
 at 7PM – come train in the ways of the force!
---
---
If you're looking for something fun, unique and memorable to do for your next group outing….let us host your event here at Baer Swords!  Give us a call or drop us an email for more information!
---
Monday – B.O.S.S. FIGHT

 
Every Monday from 6:00 to 7:00 PM.  No formal lessons…just come and practice your technique with your peers.  Fight like a Boss!
Ages 16 and up
---
Taught by Sam Brian from 7-8:30 PM
This is no choreographed class, mind you.  This is real combat fighting and training with competition rule sets.  This master will teach you a style that has real world application with the elegance of a more civilized age.
Not just in a galaxy far, far away any longer…Lightsaber training is here, in our galaxy, in our time and it's very, very real. 
Come join us at Baer Swords, young padawan, and learn the ways of the force you will.
---
Saturday 1:00 PM and Tuesday evenings at 6:30 PM!
Open Spots Available!

Ages 8 and up
---
Taught by Baer Kenney from 6:30 – 8 PM
Examples of weapons covered:  Small Sword, Rapier, Single Stick, Saber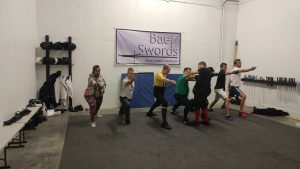 Ages 16 and up
---
Taught by Baer Kenney
Thursdays 6:30 to 8 PM
Saturdays 11 AM to 12:30 PM
Examples of weapons covered:  Long Sword, Broad Sword, Staff, Grappling, Sword and Buckler
Come and learn how to Master the Art of Modern Swordplay.
Walk-ins always welcome.
Ages 16 and up
---
---